Pupil Premium
'The Pupil Premium is additional funding given to publicly funded schools in England to raise the attainment of disadvantaged pupils and close the gap between them and their peers.'
DfE November 2014
See if you are eligible for the pupil premium - additional funding for the benefit of your child.
All infant school children, those in reception, year 1 and year 2 have been entitled to free school meals since September 2014. Just tell your school that you want your child or children to have free school meals.
If your infant child would have been entitled to free school meals under the old system, because you are receiving qualifying benefits (listed below) the government will give your school a Pupil Premium of £1,320 for primary-aged pupils (2016-2017).
For the school and your child to benefit from this money we need to know that you are receiving a qualifying benefit. Please complete the claim form which is available from your school or you can download it from our downloads section
For children in years 3 and above, free school meals are not provided automatically. They can be awarded only if you receive any of the following:
Income Support

Job Seeker's Allowance (income-based)

Employment and Support Allowance (income-related)

support under part six of the Immigration and Asylum Act 1999

the Guarantee element of State Pension Credit

Child Tax Credit - providing you are NOT entitled to Working Tax Credit and your family's annual income (as assessed by HMRC) is not more than £16,190 (as at 6 April 2012)

Working Tax Credit 'run-on' - the payment you may receive for a further four weeks after you stop qualifying for Working Tax Credit

Universal Credit (provided you have an annual net earned income of no more than £7,400, as assessed by earnings from up to three of your most recent assessment periods)
Click this link to see if you are eligible - you have nothing to lose!
http://www.wiltshire.gov.uk/schools-learning-free-school-meals
****************************************************************************************
OUR PUPIL PREMIUM STRATEGY
Pupil Premium Report - 2016-17 (link to Pupil Premium Report)
Funding for 2017-2018
The Pupil Premium Grant (PPG) is allocated to children from low-income families who we know to be currently, or at any point in the last 6 years, eligible for free school meals (FSM) and children who have been looked after by the Local authority continuously for more than six months.
For the financial year 2017-18 – PPG is allocated to Local Authorities on the basis of £1320 for each qualifying pupil.
At St Osmund's Catholic Primary School, we currently have 16 children for whom we receive PPG.
How much Pupil Premium does St Osmund's Catholic Primary school receive?
| | | | | | | |
| --- | --- | --- | --- | --- | --- | --- |
| | 2012/13 | 2013/14 | 2014/15 | 2015/16 | 2016/17 | 2017/18 |
| PPG | £24,678 | £31,449 (33 pupils) | £30,429 (23 pupils) | £22,440 (17 pupils) | £22,440 (17 pupils) | £21,120 (16 pupils) |
| | | | | | | |
| Service Families | | £2,100 (7 pupils) | £1,800 (6 pupils) | £1,800 (6 pupils) | £1,800 (6 pupils) | |
| | | | | | | |
How do we allocate Pupil Premium at St Osmund's Catholic Primary School?
It is our aim to ensure that teaching and learning opportunities meet the needs of all our pupils, recognising that some groups and individuals may be considered vulnerable. However, whilst making provision for socially disadvantaged pupils, we recognise that not all pupils who receive free school meals will be socially disadvantaged, and that not all pupils who are socially disadvantaged are registered or qualify for free school meals.
We also recognise that not all groups of children eligible for the PPG will be falling behind their peers.
Because of this, we reserve the right to allocate the Pupil Premium funding to support any pupil or groups of pupils the school has legitimately identified as being socially disadvantaged.
Pupil Premium funding is allocated following a needs analysis which will identify priority groups or individuals so not all children receiving free school meals will necessarily be receiving interventions at any one time.
How are we using Pupil Premium successfully to maximise achievements?
As a school, we have a responsibility to quantify, justify and measure the impact of our Pupil Premium spending to ensure that this additional funding is being used to support the pupils for whom it is intended.
We use data to analyse progress and pupil progress meetings to analyse the causes of underachievement
We use internal and external research evidence to support strategic decision making
We hold class teachers responsible for accelerating progress of their Pupil Premium Pupils
We use funding for additional TA/teachers to run interventions and offer support in class
We run small group and 1:1 intervention programmes
The Headteacher, Senior Leadership Team & teachers monitor and evaluate impact on pupil results
When we allocate the Pupil Premium Grant, our key objective is to narrow the attainment gap between groups of children. There are times, however, when tackling the identified barriers to learning for specific children, may not have a direct measurable impact on their attainment, but may have a much greater impact on the child as a whole.
What do we do for those children who are eligible for the PPG and who are not falling behind?
We ensure that the relevant pupils are clearly outlined on our tracking system, classroom monitor, so that evidence of their performance is clear;
We plan whole school initiatives which will raise attainment and progress for all and which will impact these pupils;
We identify curriculum enrichment activities, not directly linked to English or maths that show positive outcomes in learning;
Raising standards:
Quality First Teaching & CPD
To raise attainment we have invested a great deal of time and resources in raising the standard of teaching. We believe that Quality First teaching has the greatest impact on pupil outcomes, regardless of whether or not they receive the PPG. We recognise that research (Educational Endowment Fund) shows that good results are unlikely to arise from investing in
An over reliance on teaching assistants if it means 'more of the same'
Performance related pay for teachers
Grouping by ability
We have used the research to improve our provision by giving our teachers CPD which focuses on
Effective learning & feedback where the feedback refers to learning goals which are shared, builds the child's self esteem and focuses on what they have achieved rather than on what they have got wrong.
Metacognition & self regulation where we teach our children strategies to motivate themselves and evaluate their own learning
Early Intervention – high quality Early Years provision, with a strong educational focus and activities which support early reading and number concepts. This has proved particularly beneficial for disadvantaged learners especially where there is a higher expectation for good quality dialogue and discussion.
Phonics – evidence suggests that phonics is vital to support the development of early reading skills, particularly for children from disadvantaged backgrounds. We are proud of the significant improvements we have made to our phonics provision.
Interventions and Early Identification of Gaps in Achievement
We also use PPG for specific interventions and provision which have proven impact on outcomes for disadvantaged learners:
One-to-one tutoring – We have found that 1:1 tuition with a very specific timeframe and focus in the summer term has been effective in KS2, especially in Year 5 & 6
ICT – We have invested in digital technologies to support learning. iPads are used regularly to engage learners and to free teacher time so that there are more opportunities for focused small group interventions. Using laptops rather than desktop PCs are more likely to engage learners because they are still a part of the class activities. Purchase of APPs and on-line learning platforms has provided valuable consolidation and intervention opportunities
Interventions targeted to barriers to learning – We strive to deploy practitioners who are well-trained, experienced and knowledgeable of the barriers to learning
Parental Involvement
We recognise the importance of getting parents on board so they are supporting their child – and often learning alongside them. We listen to them when they share their concerns and interest in the curriculum and we try to keep them informed of what their children will learn.
Emotional support:
The use of an Emotional Literacy Support Assistant (ELSA) to provide support for children in the school who are emotionally vulnerable.
Staffing provision within the school and the resources required for effective support of the pupils.
Providing Breakfast Club places and transport to improve specific children's attendance.
Enhancing experiences costs:
Some of the ways we try to ensure that all Pupil Premium pupils have equality of access to opportunities with non-Pupil Premium peers are as follows:
Buying specific resources;
Subsidies for day trips, swimming lessons and residential experiences;
Subsidising school uniform and clubs.
Subsidising a range of enrichment activities such as extra-curricular music and language lessons;
Access to ICT based opportunities.
Parental Information:
How can parents and carers contribute to the success of the Pupil Premium scheme? If your child is eligible for free school meals, it is worth registering them even if they're not going to have the school lunches. It will have a direct impact on the funding and will maximise the support we can provide.
Please contact the office for an application form.
We use a range of data to analyse impact of spending:
End of Key Stage 2 Data
Current and tracked data for each class on classroom monitor
Intervention analysis – putting the interventions in place and asking 'So what?'
Work scrutiny and pupil voice
Absence & Punctuality
Parent survey
Impact on Attendance
Consistent application of the attendance and absence policies has ensured that attendance of our FSM children has improved and is in line with that of non FSM children. Closer examination of the attendance figures has shown that many unauthorised absences arise from strict application of the 10 minute rule whereby children who arrive after 9.05am are marked late. Arrival after 9:30am is marked as absent.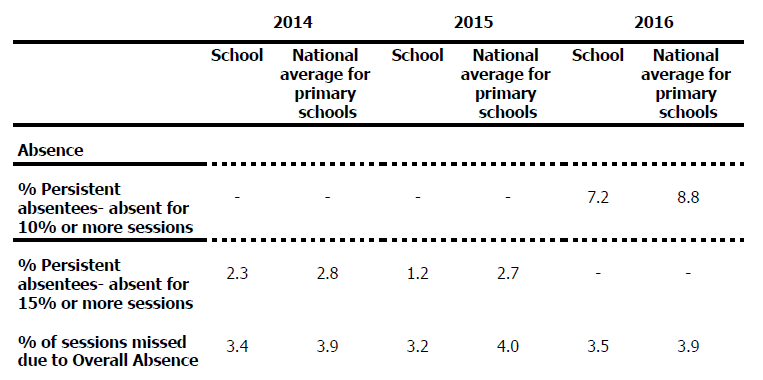 While our overall absence rate is low, and below national, as well as the rate of persistent absence, we know that the persistent absence of children eligible for PPG is higher than national averages. This is accounted for by a very small number of pupils who have exceptional circumstances however, we are enhancing our attendance procedure this year so that persistent absence is tacked swiftly and consistently by the SENCo, the Headteacher, and the Office Staff.
Performance of Disadvantaged Pupils at the end of KS2 – 3 Year Trends
Since the introduction of the Pupil Premium Grant in the academic year 2012/13, St Osmund's has targeted interventions to raise the attainment and progress of its disadvantaged children.
The following tables are taken from RAISEOnline 2016. We hope that you will agree we have made sustained improvement over the course of this period so that by 2015 we are proud to report that 100% disadvantaged pupils achieved Level 4+ in combined Reading/Writing/Maths and, more importantly, that they have all made good or better progress since KS1.
KS2 Attainment - PPG
Reading
Writing
Maths
2018 -

2 pupils

100%
100%
100%
2017 - 5 pupils
67%
67%
100%
2016 -

2 pupils

100%
100%
100%
KS2 Progress - PPG
Reading
Writing
Maths
2018 -

2 pupil

s
-0.1
-0.14
2.57
2017 - 5 pupils
2.12
-0.83
4.66
2016 -

2 pupils

0.47
1.12
9.64
KS1 Attainment - PPG
Reading
Writing
Maths
2018 -

1 pupil

100%
100%
2017 - 5 pupils
40%
40%
40%
2016 -

2 pupils

0%
0%
50%
Y1 Phonics - PPG
2018 87% expected standard (all pupils)
33% expected standard (PPG - 3 pupils)
2017 93% expected standard (all pupils)
100% expected standard (PPG - 2 pupils)
2016 80% expected standard (all pupils)
50% expected standard (PPG - 4 pupils)
The PPG data above should be treated with caution due to the very low number of pupils in the cohort. This naturally creates huge differences in the data when one does not achieve the expected standard.
What are our Next Steps?
Continue to focus on the PPG children at Pupil Progress Meetings to ensure that intervention or support is in place where these children are falling behind the expected standard.
Our younger cohorts have been tracked very carefully, but the introduction of universal free school meals for all of KS1 pupils has made it less likely that families will apply for FSM on the basis of low income until they enter KS2 despite the efforts of the school to encourage them to do so.
Our FSM cohort size over the past 3 years has decreased and we are now in the 20th percentile in this category:
| | | | | | |
| --- | --- | --- | --- | --- | --- |
| FSM | 2013 | 2014 | 2015 | 2016 | 2017 |
| School | 16.2% | 11.7% | 8.6% | 8.3% | 8.1% |
| National | 26.7% | 26.6% | 26.0% | 25.2% | Not known yet |
However, our school deprivation indicator shows that we are in the 60th percentile, an indicator that although our families may not be eligible for FSM, many are on low incomes.
Our PPG targets for the academic year 2017/18 are therefore to:
Ensure time and resources are put into supporting needs families to access PPG if they are eligible but not in receipt of its benefits -the current PPG take-up belies the school's deprivation indicator
Embed the school's new procedure for tacking persistent absence, particularly of the small number of children in receipt of FSM
Develop targeted interventions and evaluate robustly in Pupil Progress Meetings (Termly)
Embed Guided Reading in all classes with a specific focus of supporting those learners whose parents either do not or cannot support them at home
Continue to develop learning behaviour
Further develop the work of the PSA, building on the excellent work done last year
Further improve attendance for PPG pupils by focusing on punctuality and pointing those families who struggle towards breakfast club
Continue to enhance the work of the Inclusion Leader so that all PPG children are tracked as rigorously as those with SEN or other additional needs
Continue to enhance the CPD for teachers so that Growth Mindset principles are applied in class
Continue to support the transition to secondary school by building resilience and confidence